I have been urged to "post more", so I guess I will. Honestly, I think I've been avoiding posting. I've only worked out once since the ski trip. Ahh! Yes I feel guilty. In my own defense, it's been a little hard to get going again. Connor is teething again (four molars at once), so he is taking cat naps instead of his normal marathon naps. I have been opting for a guaranteed shower instead of possible all day stinky sweaty. While this is a valid reason for a delay, I still should have overcome this by now. I'm into the hard to get started again vibe now. Today I was about to break that wall down (had the X Box on and everything) when Connor woke up. I set up his playpen outside and put weed and feed on the lawn instead. At least I did some "walking"... I can't believe I just called fertilizing my small yard walking.
Besides shirking my exercise commitments, I've been pretty busy. The Submarine Birthday Ball is coming up in a little over a week. I went dress shopping with my sis and found the perfect dress. Unfortunately it was about 4 sizes to small and was "last season", so I went with an almost perfect dress. It's aqua blue, strapless and sparkly. I'm in a smaller size but my boobs are in an ever smaller size, so I'm having it taken in a little up top. It should be nice. I'll post a picture if there are any I'm not embarrassed about.
I've started stamping. I'm using Stampin' Up products and am addicted. Everything is already color coordinated, so I just have to design. I don't spend my time trying to figure out if something matches. It's great! Here's my first card (sent to Mike's mom this week).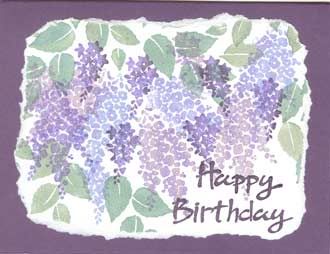 I guess that's it for now. I need to go to bed. So much for "in the bed going to sleep at 10 tonight". I guess I'll try that tomorrow night.