He loves me! Connor that is. He said so! I was sitting on the couch feeding Clara when he came and sat next to me, leaning his head on my shoulder. I said, "I love you, Connor." Then he said, "I love you too, mama." and he grinned at me. What a sweetie!
Clara had her 2 month well-baby visit today. Yes, she's 3 months, but let's just say we were in Tricare limbo hell. Ah the joys of insurance... hehe. Anyway, she had 3 shots today. Poor baby. She's been okay since then, just a little not herself. Let's just say she's very calm. I think she's more like me everyday (oh no!). I get very "calm" when I don't feel well also. Here's a picture for you...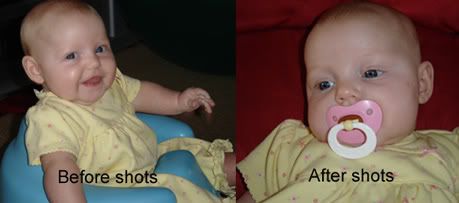 She hasn't been too fussy though, just lethargic. Of course, as I'm writing this, she's wiggling around in her cradle. We'll see how the night goes. She is healthy by the way... 15lbs and 23in. 100th in weight and 80th(?) in height. Just like Connor.
So by now Michael is being called a chief. Today was his pinning... at sea... that way sucks. I hate missing such an important thing in his life. His dad was giving him a set of his old anchors, so I hope they got used today in some way. I have a whole other handful waiting for him in my jewelry drawer, but I knew he needed a touch of family on this day. I keep hoping for an email from him, but so far nothing. That doesn't necessarily mean he hasn't written, just that none has been sent. I am so ready to hear from him.